Bitly Funding Rounds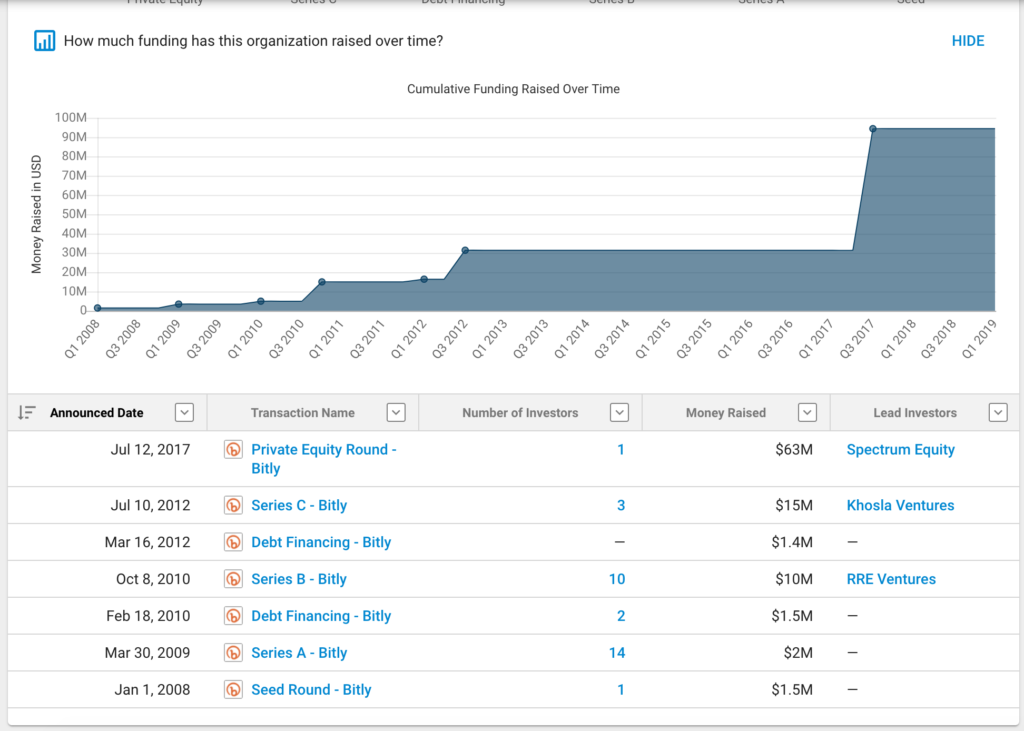 Everyone knows Bitly. It is a management link platform which shortens any long URL; you can try to input the URL into the empty column and get the shortest URL which can be posted on Social Media.

The service is very simple: You get rid of the annoyingly long URL without being necessarily aware that, while Bitly gives you the comfort of shortening your URL, you provide them with your data for their analytics.

As their business model matured, they came up with an idea that you can start using their analytics and measure the success of your shortened URL. Right on their website, they have a very useful tool to attract traffic of which a fraction will be their paying clients. My guess is that just 3% might be paying clients. This is their business model.

According to the CrunchBase The most interesting part is that they got a Seed Round of $1.5m on Jan 1, 2008, and the last financing Series C was on Jul 10, 2012, nearly five years after the initial seed investment. It is interesting that Series C, they had received Debt Financing of an undisclosed amount before Series C; this is the case only when you are short of money.

The company was acquired on Jul 12, 2017, nearly ten years since the launch of the first service. The company has received $94.4M which is very impressive!
I am thinking about how Eqvista can learn from the Bitly business model. I think we are in a similar position. Most of our clients want to issue shares to themselves. Bitly offers free URL shortening; Eqvista offers free share management software, but I see this is not the only similarity between these two companies. I presume that just a few of our clients will use any derivatives or securities such as a convertible note, KISS, SAFE, employees stocks or functions such as vesting, 409a valuation, waterfall, round modeling etc. All these features will be free of charge as well; however, we will also offer paid advanced services.

I guess we won't raise as much money as Bitly, but it would be nice to have such a huge budget at the outset.
26,932 responses to "Bitly Funding Rounds"