Demo account – set up a call or let client to explore your app right away?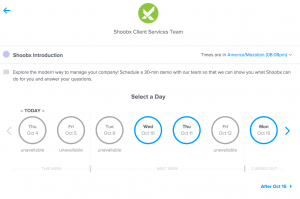 Have you realized that most of the online companies offer free tools or limited access to their platform? I am a big fan of these product promotions, however, what really irritates me it is when you try to get a demo account or limited access and you are asked for scheduling a demo call where they have control over showing you around. I understand that they want to convince any client to use their platform and that chance increases if they talk to you in person, but it might also discourage a client to pursue further contact. This is in my case when I have an option to use the demo or limited account, I would expect to get access immediately in order to make a decision whether or not to use the app. Perhaps, if I am not convinced by their services they offer or have any doubts, I would like to have the option for scheduling a call with the company representative.
This is actually what we want to achieve in eqvista.com where you will have a free access on our platform and complete with the manual of how to use it. If you are not sure where to click or how to use any tool, we are ready to assist you by either making a call or online chat without any strings attached. We feel good about this approach.
As the calls or appointments feel like a bottleneck to potential customers in their decision to use a platform, this might be one of the reasons why clients prefer not to use it. It can even appear that such a company is pushing their product before allowing you to test it, and instead try to persuade you during the introductory meeting or phone call.
Another thing that I do not like about the limited access is that companies offer and share a solution but withdraw completion unless you commit yourself to purchase their product. Again, I understand that some functions must be paid otherwise the company won't be able to earn any money, but the line should be drawn clearly so you know at the outset that there might be either a catch or a perfect tool to use. We want to offer you a balance where you would be able to use our platform without spending if you are a non-frequent user; however, if you decide to use our platform for heavy operations, we will offer advanced services for which you will be charged.
What do you think, is it a good idea letting our clients try our platform right away or would you like to have a call with us before login?
6,504 responses to "Demo account – set up a call or let client to explore your app right away?"