Incparadise New DashBoard
We have some good news to share. The good thing is that our IT team has finally launched our new DashBoard for IncParadise. I was pushing them very hard. Since we are working on multiple companies, it is nearly impossible to be on time. Anyway, it is finalized, and we can move to other improvements. We have a list of things what we want to do.
This is our New DashBoard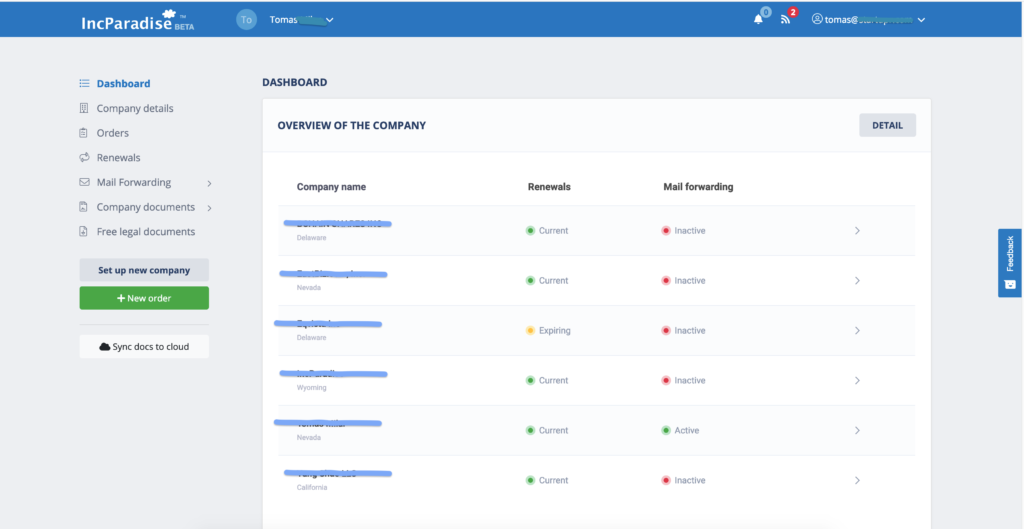 This is our Old DashBoard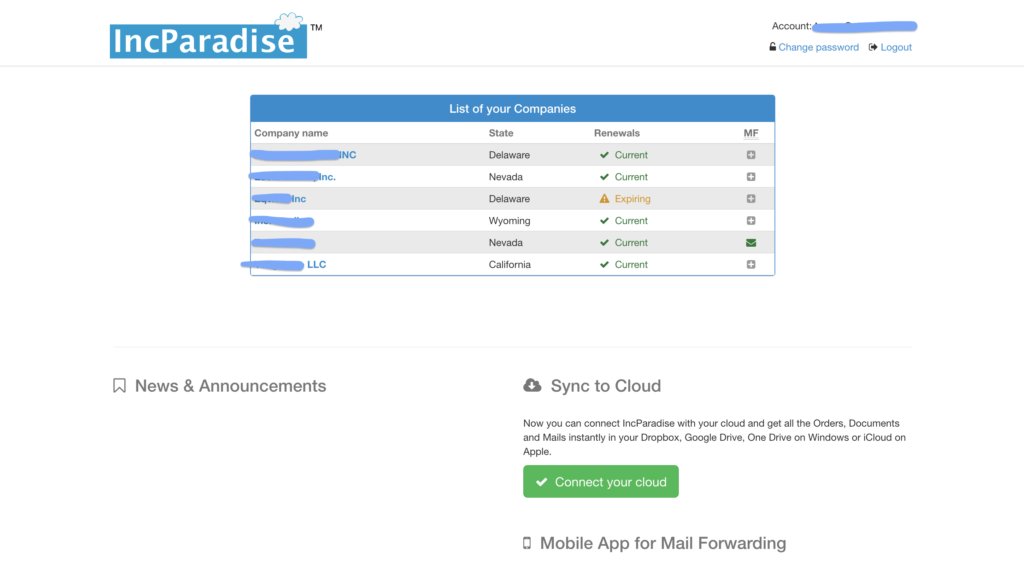 Our mayor improvements:
We have placed all companies on one webpage, so you don't have to go through all separate pages for each company and have all services in one place.
Mail Forwarding box is displayed on the dashboard, so you don't have to click through different subpages, you have all your incoming mail on your dashboard. Add funds to your Mail forwarding: You can add funds to your mail forwarding account at any time. You will also get a notification in the system when your deposit funds drop below the limit.
You can place New Order for any services or your current company, so you don't need to go to the public order form. All can be done from the DashBoard.
Service Expiry Notifications: Users will be notified about their service expiry or any other important company filing deadlines.
You can Incorporate New company from the dashboard, any company out of 50 US states.
Pop-up of your dues – Company Renewal, Annual List, Mail Forwarding Renewal.
Eqvista – you can issue and manage your shares, set up ESO (Employees Stock Options), Convertible Notes, Option, Warrant, SAFE & KISS.
New and Improved system for managing and storing company documents.
A new version of cloud services for Dropbox and Google Drive.
Easy & Advanced user interface.
Fully responsive to the mobile & web.
Advanced security & privacy protections.
I will be very happy if you have any suggestions on improving our DashBoard. Please leave comments below. You can set up your company and login at https://account.incparadise.net
36,683 responses to "Incparadise New DashBoard"