Interactive Guidelines
If you are building any software which requires certain know-how, it is also very important that you prepare guidelines which will navigate your clients through the platform.
There is just a little to be done if the platform is just a one-time set up; e.g. stripe.com is a perfect example. Your IT team plugs Stripe APP to your platform and you make sure that you have the correct bank account number and routing number on the backend so you receive the payment to your bank account. There is no big science in implementing the payment processor. However, if you use QuickBooks, you must have specific knowledge to keep your books in order. Sometimes it is better to hire an accountant to get it done for you because it is too time-consuming and somebody would have to take it over from you anyway. QuickBooks has do-it-yourself guidelines, however, the process is too involved to waste your precious time on it.
Another great example is GitHub: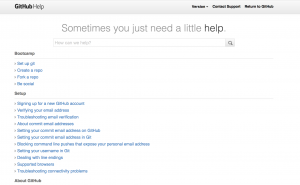 They have great guidelines which can help you understand their platform, but, again, this is for IT engineers who are using the platform often.
Here at Eqvista, we want to come up with an interactive solution for you which would help you to guide yours through the system as you do not need to fill out your captable details on an everyday basis. Lawyers, consultants, and auditors may charge you $400-$600 per hour or $5,000< flat fee for setting up your CapTable. Our guide will give you the strength to do the same job what the third party provider would charge you.
For example, let's say that you want to grant shares to your employees. First, you need to create a special class of shares, such as "My Stars Employees Class", usually between 10% – 15% of the authorized shares. Then you have terms, something like a cliff, vesting schedule (vested vs. unvested shares), 409a valuation and strike price. What does "4 years vesting with 1-year cliff" mean? Do I reserve Preferred Stocks or Common Stock? What is the difference between the 409a valuation and its post-money investment valuation? These are all questions you as founder might have. It might be difficult to understand all these terms, plus how they are used in a more practical way. It is something else you will need to learn.
So the plan is supposed to explain the theory and then guide you through the process of practical understanding – how to convert the theory to its practice.
I have covered the difference between authorized shares vs issued shares in here. Now, imagine that you have star employees and you want to award them, right? There are processes you need to follow. First, you need to make sure, that you reserve, let say, 10% of authorized shares for your employees, and you name this class of shares "My stars employees". You will make sure that you block off these shares to not use for other purposes.
Before you grant any shares to your employees, you need to get the $$$ valuation done. For tax purposes, you need to get the valuation from an appraisal company in order to know how much each one receives in value. Valuation for the investors for Preferred Shares it is a different process. Let's put this aside and focus on the employees first. You receive your 409a valuation report that tells you that the value per share is $10, so you can issue, for example, 1000 shares to your first employee which will allocate to him/her $10,000 equity in the company.
There are also other terms you need to know. A typical options vesting package spans four years with a one year cliff, and the vesting period might be set for 4 years. You usually set the cliff period as a one-year cliff which means that an employee will not receive any vested shares until the first anniversary of his/her start date. An Employee gets the first shares after one year. Then, beginning with the anniversary date of the employment he/she receives the shares for the next 4 years on a quarterly schedule.
In order to have your capitalization table complied with the captable standard, this is one of the examples of how I would describe the process of all the procedures you need to know.
Our platform will have direct links from each window or pop-up window so you won't get lost.
8,823 responses to "Interactive Guidelines"