Why did we decide to come up with new CapTable ?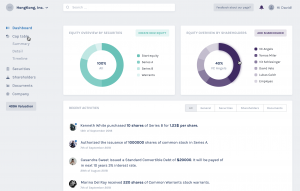 1) We do company formation at:
Since our first day back in 2001, we have set up over 14,000 companies and received many successful stories where we assisted with setting up startup companies and where the company evolved into very profitable and successful business.
We have received many request on how to manage the company shares and how to issue convertible notes, warrants or options. There are many things to think about: how shares dilution works, or how to use waterfall analysis and why.
The key element is to have the correct shares distribution for investors or employees. You need to know the value of shares at the time of giving shares away or issuing shares.
409a Valuation – it is the appraisal of your company shares. If you deal with any of the following; raising capital or rewarding your employees with company shares, you need to know what is the current price of your company's common stocks.
Publicly traded companies have valuation displayed at the stock market which is updated every daily or even by the second once the market opens. However, the valuation for non-public companies must be done by appraisal specialists (accountant, CPA or any experienced financial professional). The 409a Valuation is required only for US incorporated companies. This appraisal is required by law.
As you can see, there are many things to think about! This is the main reason why we have decided to provide you with Capitalization Table services. We already have clients and we are sure that Incapardise Inc. will be the right fit for eqvista.com. Incparadise Inc. is Registered Agent based in California, Wyoming and Nevada providing Secretary of State corporate filing services. We are capable to provide easier access to CapTable management services.
We do have clients who might simply use just the part where they manage company shares and need readily accessible and comprehensive online tool for their shares.
We have over 2,000 clients in Startupr who like to get access to this wonderful tool. The Hong Kong jurisdiction is different from that of US, especially the taxation is simpler and more benevolent which makes the 409a Valuation necessary; however, as a founder of Hong Kong based companies, you still need to valuate the shares if you sell them or award them to your employees. This is why we are convinced that any Hong Kong company will benefit from our services.
We offer our platform free of charge and we might also add some paid services. 409a Valuation is heavy lifting work, as this service involves professional manpower. As there are many competitors, we will have to come up with a competitive pricing.
2) Competition
Current versions of CapTables are not satisfactory; the competitions provide, overly simple or overly complicated platforms.
Simplicity is the key to attract more clients; the product should not look too cheap otherwise the clients wouldn't trust that platform to put company's data on it.
Complicated platforms are business killers as they are difficult to use. You do not want to spend your precious time on updating your CapTable more than necessary, you shouldn't be discouraged by difficulties of uploading your shares to the platform by potential difficulties.
Therefore we have recognized an opportunity, to make available a intuitive online platform which will encourage you to play with your shares and have a fun while deciding distribution of your company shares. We know that it is very important to be able to trust your CapTable and instead of spending too much time on filling the columns and rows of your spreadsheet.
3) Delaware & Wyoming law changed and welcomes blockchain technology
Delaware Blockchain Initiative
As the technology evolves; the law and provision do the same. Delaware has come up with Delaware Blockchain Initiative (DBI) where you can hash your shares on the blockchain. Let say that you have issued 100,000 shares to yourself and to five other founders plus three investors. except that you have no record of the shares in the data entry of your Excel sheet. Also if you lose your excel sheet, you will end up having no record either. DBI is a provision which allows you to use the distributed ledger (the blockchain) to store all your data. In this way, the information is stored in unerasable data storage. This is the advantage that our platform provides.
Wyoming HB 101 provision
The same provision has been passed in the State of Wyoming where also you can use blockchain to store your data. HB 101 provides for the maintenance of corporate records of Wyoming entities via distributed ledger.
Here are a few reasons why it's good to store your data on the distributed ledger:
Cost savings,

error free

defensible (once there is an entry in

distributed

ledger, it is almost impossible to forge the data entry);

Always accurate and it automates most of the manual processes that business are paying law firms and always accurate (the algorithm automates most of the shares data entry

therefore

the system is mistake free – each transaction is cryptographically signed);

Every shareholder can be directly registered on the distributed ledger (blockchain)

Instead of being beneficial owners through

broker

, you are the owner;

CapTable management is very easy (no need to hire accountants or lawyers);

Lowers the chance of disputes;

The technology allows two parties to interact directly without an intermediary;

And many more.
Just to wrap it up why we have decided to start our own CapTable firm.
We have a great client base. Incparadise has been in the business since 2001, Startupr has been on the market since 2011, we have incorporated over 14,000 companies. We average about 4,000 active clients from year to year. Every single company must issue shares by law, therefore you need to have a record of company shares. This is why we are here for you.
We have opened a new office in Silicon Valley, we are in the right place to provide startup services as CapTalbe and Valuation company.
The law changes constantly and it brings other possibilities for entrepreneurs on how to develop new products; this is one of the reason why we have used blockchain technology in our platform. It is fail-safe.
7,131 responses to "Why did we decide to come up with new CapTable ?"