Hong Kong as the best city to start a business
You might think that it is a joke. How can the most expensive city possibly let you bootstrap?
It is very simple. We call it taxes. :)When I moved to Hong Kong back in 2011, the prices started going up 10% every year until Hong Kong became the least affordable city to rent or buy property. Hong Kong housing leads as the most expensive city in the world.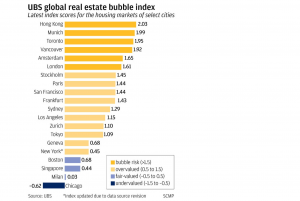 Giving that fact, how can the city be pro-business? Well, it is very simple. Hong Kong has the most favorable tax system in the world. They have also introduced the $ 2,000,000 HKD tax break so if your company earns anything up to $ 2,000,000 HKD, you pay just 8.25 % (for the year of assessment 2018/19 onwards). It is 50% less than for previous years. Isn't that amazing? So if you do business with the rest of the world you have the competitive advantage of paying fewer taxes compared to other countries where your competition pays likely 45% in taxes (this might be the case for some countries in the EU e.g. France, Italy, Spain, etc.)
Here is an example: if your company earns $ 3,500,000 HKD in 2018, you will end up paying as follows:
8.25% on assessable profits up to $2,000,000 HKD; ( 0.0825 x $2,000,000 HKD)

16.5% on any part of assessable profits over $2,000,000 HKD ( 0.0165 x $1,500,000 HKD)
So basically what you save on taxes, you can invest back to the business, hire more people, or raise salaries for your employees. You can also rent a better place. The rent in Hong Kong is super expensive but again it is offset by lower taxes which, even though you pay more for rent, makes it affordable.
Or you can do it the way I did it. I moved to Hong Kong back in 2011. Before I moved to the city to set up Startupr I was studying the Hong Kong company ordinance and the Inland Revenue Department taxation system. It took me nearly 5 months to understand the whole process and have a clear understanding of how the system works. This was an important part of the relocation as I was immediately ready to proceed with my business venture.
Before you move to any place you should look for a location. It should be low cost; you can share the house or have just a little studio where you pay just very, very little. I have seen people moving to expensive apartments, thinking that hey can manage it. They would be paying as much as 70% of their monthly income. My target was to pay as little as possible so that I would not even notice that I am paying a rent. This may seem as a brutal tactic; however, this is a must if you want to successfully run your own business in a foreign country. You are a complete stranger, so you need to be more careful than locals. When I look at the people who rented crazily expensive apartments, they either returned home to stay with their parents (even though they may be 30+) or they were forced to downgrade in job quality because they didn't find the same job level as they had before. It is very tough at the beginning. I was paranoid about having to return to my home country, knowing that I had wasted time and energy uselessly.
I still keep the same house today as it is very convenient for me to return to the place I have known for many years. It feels like going home because you know the people and the area. Six years is long enough to feel at home.
14,488 responses to "Hong Kong as the best city to start a business"